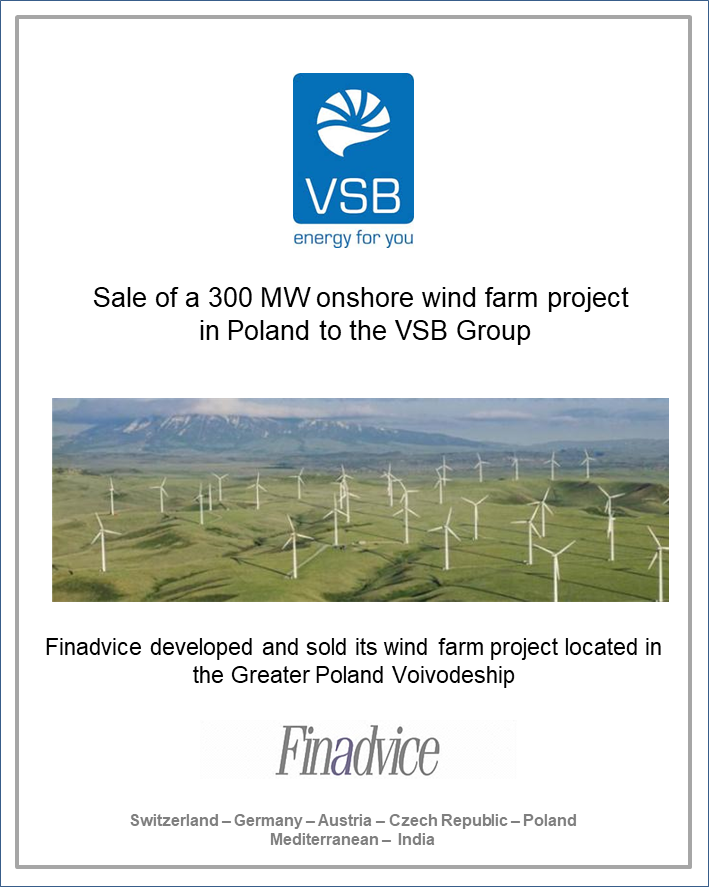 VSB Group, which is majority owned by the Swiss-based Partners Group, a global asset manager, has acquired a 300-megawatt onshore wind farm project developed by Finadvice Poland and sold by Finadvice Zurich and Linz. The wind farm project in the Greater Poland Voivodeship sets new standards in onshore wind farm development in Poland, both for the VSB Group and for Finadvice, and will provide electricity to more than 200,000 households.
VSB Group (300 employees, 23 locations) with headquarters in Dresden is one of the leading full-service providers in the field of renewable energies. The core business lies in the national and international (Germany, France, Italy, Poland, Romania, Finland, Ireland, Tunisia) project development of wind and photovoltaic parks, their management and maintenance as well as the operation of their own parks. Since 1996, more than 700 wind turbines with 1.1 GW of installed capacity and an investment volume of € 1.7 billion have been built. VSB also provides services to external parties for 1.4 GW of assets.
Finadvice was founded in 1998 as an independent consulting company with a focus on M&A and has been involved in the development of wind farm projects since 2010.
The core business of structuring, coordinating and handling M&A processes is supplemented by additional services as well as succession and financing advice.
With its locations and employees in Austria, Germany, Switzerland, the Czech Republic, Poland, the Mediterranean and India, Finadvice has an excellent network for the implementation of national and international transactions and projects in the utility sector and regarding sustainable technologies.